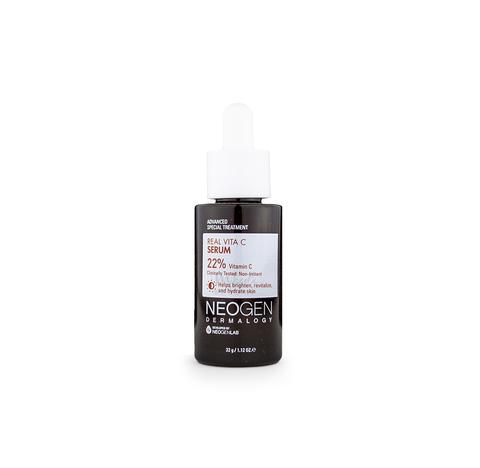 [NEOGEN] REAL VITA C SERUM
KShs3,000
A super potent Vitamin C Serum is enriched with 12% of Vita C Acerola-plex and 10% of Sodium Ascorbyl Phosphate – a stabilized source of vitamin C – along with citrus fruit extracts and vitamin complex (Vitamin E, Vitamin B5) that all work together to brighten and firm the appearance of skin for healthy-looking complexion.
This revolutionary serum containing Collagen and Hyaluronic Acid is to make sure the skin remains hydrated and smooth as well.
Out of stock
[NEOGEN] REAL VITA C SERUM
A must-have in a skincare routine, this Vitamin C serum brightens and firms the skin for a plump and healthy complexion. Real Vita C Serum contains a stable form of Vitamin C that doesn't irritate the skin. It helps protect skin from damage, improves radiance and helps calm breakouts.

Key Ingredients

Sodium Ascorbyl Phosphate – A stable form of Vitamin C, this ingredient brightens the skin and fades dark spots while protecting skin from damage.
Vita C Acerola-plex – A complex that contains various fruits and veggies rich in Vitamin C, such as Acerola, Broccoli, Lemon, Grapefruit, Lime and Vitamin E, that all work together to brighten and hydrate the skin for a healthy complexion.

<How to Use>

1. After thoroughly cleansing and toning, apply an appropriate amount of it onto the entire face. Smooth and gently pat over skin until fully absorbed.

2. Recommend using one vitamin C product to avoid over-exfoliating.