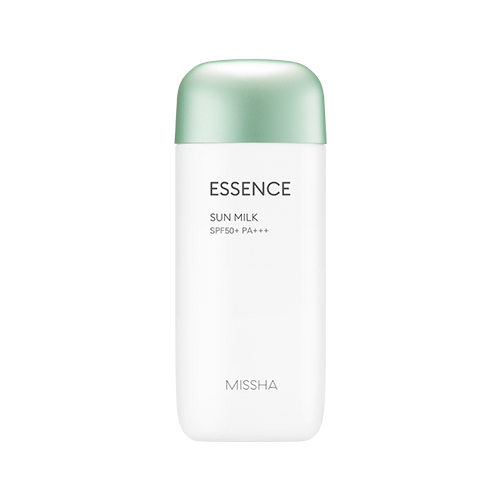 [MISSHA] Essence Sun Milk SPF50+/PA+++ (70ml)
KShs2,200
Moist Sun Milk packed with moisturizing essence.
The essence containing four seasonal flower extracts comfortably wraps around the skin and supplies skin with moisture and nutrients.
#Skin_soothing #Moist_finish #Non_oily
[MISSHA] Essence Sun Milk SPF50+/PA+++ (70ml)
MISSHA Essence Sun Milk SPF50+/PA+++ is an essence sun milk that provide sun protection to skin and at the same time it hydrates and cools off skin affected by the harsh sunlight. It is also water and sweat resistant. It is also full of moisture to help soothe sun burned skin.
1. Pros
Those looking for a sun protection product that has the moisturizing effect of an essence that cover skin comfortably.
Those who desire outstanding UV protection with minimal white cast.
Those looking to care for skin damaged by UV rays and other environmental pollutants.
Sun milk packed with skincare ingredients as it moisturizes and nourishes skin.
Contain Thanaka extract with a cooling effect and it helps to soothe damaged skin from irritation.
2. Concept
Double Layer UV Blocking System Holds Up Strong to Water and Sweat: New Double Layer UV Blocking System provides long-lasting and impenetrable UV protection, even as the humidity rises
Moisturizing Essence Quenches Dry Skin: The extracts of 4 kinds of flower extracts (apricot flower, lotus flower, chrysanthemum indicum flower and camellia flower), representing the four seasons, soothe, nourish and hydrate tired, dry skin.
Containing GLYCOFIRM 1.5P: It helps protect skin from the elements and UV rays.
Antozone-Rose and Thanaka Extracts Soothe Skin: Antozone-Rose protects skin from environmental stressors while Thanaka extract provides a cooling effect. It helps comfortably sooth skin that can get easily damaged by harmful elements such as UV rays, dust, pollution, etc.
Technology of Water and Sweat Resistant Double Layer Polymer