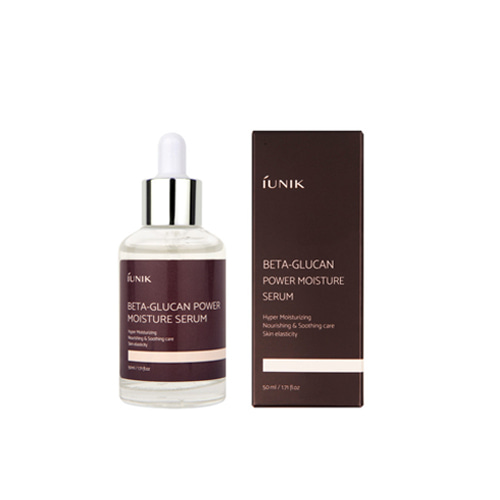 [iUNIK] Beta Glucan Power Moisture Serum 50ml
KShs2,500
A moisture-replenishing face serum powered by beta-glucan to leave skin with a healthy-looking renewed glow.
Offer super moisture recharge and skin barrier function improvement to dry skin with the amazing skin moisturizer, Beta-Glucan
Enriced with 100% pure Beta-Glucan to nourish and soothe skin by capturing inner skin dryness and supplying instant moisturization to sensitive skin
How to use: After facial cleansing or using toner, apply a proper amount to your face and gently dap for absorption.
In stock
[iUNIK] Beta Glucan Power Moisture Serum 50ml
Only formulated with Beta-glucan (98%) and Sodium PCA (2%), this highly moisturizing serum is ideal for those who are suffering from skin dryness (dry and dehydrated skin). This power moisture serum provides instant moisturization to the skin. It also has , anti-stress properties!

Beta-Glucan moisture content measurement result shows that it has a 20% higher moisture storing ability than hyaluronic acid.

Key ingredient: Beta-glucan. Beta-glucan is a natural polymer polysaccharide extracted from the wall of mushroom yeast table. It has a 20% higher moisture capacitance than hyaluronic acid; it improves skin elasticity.

SUITABLE FOR WIDER RANGE OF SKIN TYPE: The IUNIK Beta-Glucan Power deep moisture serum is free of fragrance, hypoallergic and comedogenics. Iunik ample serum is suitable for women, men with dry, sensitive, normal & acne prone, aging and normal skin. This facial serum is ideal to use throughout the year for dry & sensitive skin. The iUnik facial ampoule serum will leave a smooth & soft texture upon the layer of the skin.

ALL DAY LONG HYDRATION: IUNIK Beta-glucan moisture serum is formulated with 98% beta glucan, mushroom yeast extract. The moisturizing serum has zero irritating stuff and no alcohol in the formula. The serum provides all day and night-long moisturization. The facial serum helps to restore hydration and fight signs of aging. The hydrating formula will be absorbed deeply through the layer of skin in seconds without clogging pores or heavy feeling.