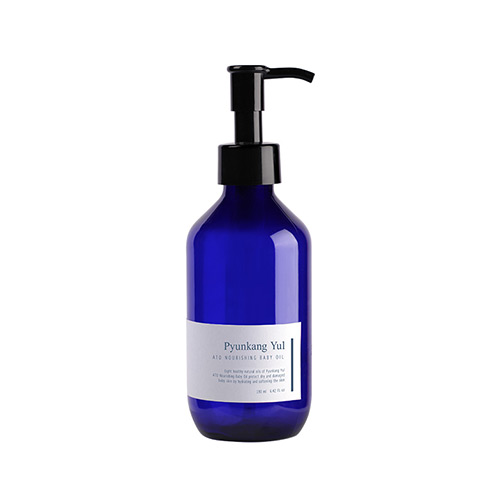 Sale
[Pyunkang Yul] ATO Nourishing Baby Oil 190ml
If you're looking for a gentle body oil — one that offers serious efficacy and glowing result —  this is the one.
Pyunkang Yul Ato Nourishing Baby Oil uses 5 kinds of EWG green level essential oil including Sunflower Seed Oil, Jojoba Seed Oil, Sweet Almond Oil, Olive Oil and Macadamia Seed Oil to deeply moisturize and intensively soothe your skin.
Free from artificial fragrance and colorant, it doesn't strip and overdry skin — making it safe for all ages (including babies and pregnant women).
[Pyunkang Yul] ATO Nourishing Baby Oil 190ml
Pyunkang Yul ATO Nourishing Baby Oil Dry and damaged skin is recovered with 8 healthy natural oil products moisturizing and softening the skin. [Nourishing Oil] The mild oil containing healthy and natural ingredients keeps your baby's delicate skin deeply hydrated and silky smooth for a long time.
Suggested Use
Press the pump for adequate amount of oil to apply it to dry and desired areas, then gently rub the areas like massaging the skin. INSTRUCTION : (1) Discontinue the use of the product and consult your dermatologist 1) if any of the these unlikely side effects occur, including rash, swelling, itching. and irritation 2) if direct sunlight causes the effects (2) this should not be applied to areas with wounds, eczema, and dermatitis (3) Storage 1) Close this product after using 2) Keep this product away from children 3) Avoid sunlight or places at high or low temperature