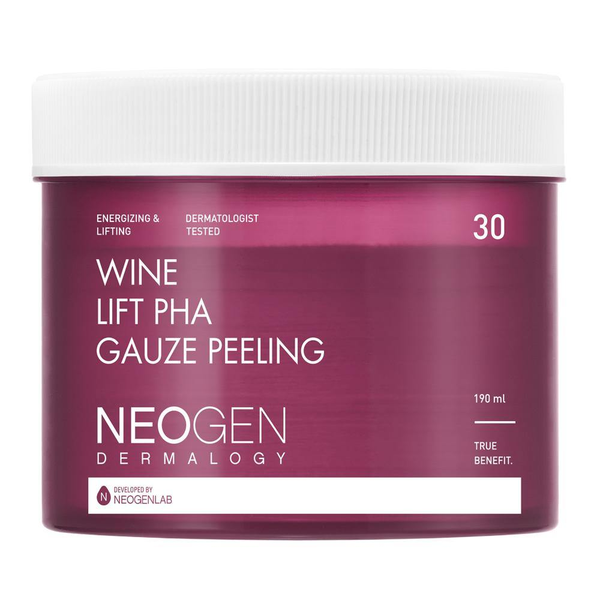 [Neogen] WINE LIFT PHA GAUZE PEELING 190ML (30 PADS)
KShs3,000
A gauze peeling pad that exfoliates and cleans our impurities while it nourishes the skin. Contains three separate pads (Green tea, lemon and wine) which all help out the different areas of concern. The 3 Gauze Peeling Pads have a patented 3-layer pure cotton pad that helps roll away any dead skin cells and brings out the customized effects for each skin condition.
NEOGEN DERMALOGY Wine Lift PHA Gauze Peeling is a patented triple structured pure cotton pad, on one side, the soft gauze cotton removes dead skin cells and impurities from the skin, while the other embossed side is soaked with essence which restores the skin's firmness and helps with skin elasticity and vitality.
Key Ingredients
Wine : Polyphenols from wine revitalizes and nourishes fatigued skin.
Peptide : Contains PHA, AHA, BHA, LHA
[Neogen] WINE LIFT PHA GAUZE PEELING 190ML (30 PADS)
Product Information
Healthy purple wine ingredients that firm skin
Polyphenol-rich purple wine ingredients reduces reactive oxygen species to prevent oxidation, delivering firmness and anti-aging effects.
Instantly removes all dead skin cells!
Formulated with 4 types of non-irritating peeling ingredients including PHA to help remove dead skin cells as well as improve skin texture, skin tone, skin.
Youthful, revitalizing ingredients for skin
Formulated with more than 10 types of berries with powerful antioxidant effects that revitalize and firm skin into a youthful complexion.
Forms skin-firming barriers
Forms skin-firming barriers and delivers firming effects with peptide, collagen and adenosine to skin losing elasticity
How to Use
1. Gently swipe the with the pure cotton thread pad across the skin.
2. Carefully swipe in areas with dead skin cells.
3. Use the embossed side of the pad to gently refine the skin.
*A no-wash exfoliator*
*Suggested use: 2-3 times a week, increase the frequency of usage as needed.*
Only logged in customers who have purchased this product may leave a review.