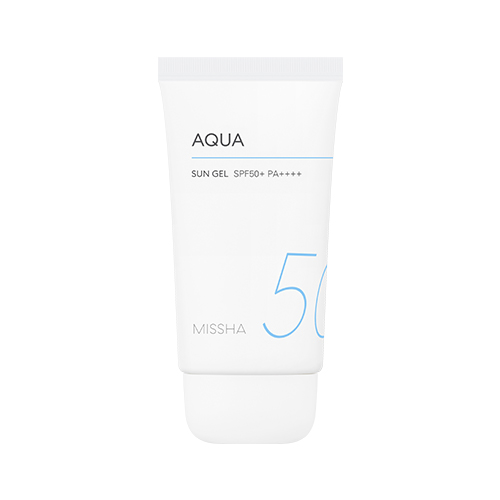 [MISSHA] All Around Safe Block Aqua Sun Gel SPF50+ PA++++
KShs1,500
Based sunblock formula that provides instant adherence to the skin after application at same time provides your skin with intense hydration, soothing and cooling sensation. It is water and sweat resistant while helps to prevent skin from aging by blocking the harmful UV rays.
Benefits:
Moisture-rich water type of sunscreen that soothes skin with mild ingredients.
Feels lightweight moisture and fresh texture on your skin. Protects against UV rays.
Due to the product nature, it is normal that the product is only half full.
50ml
[MISSHA] All Around Safe Block Aqua Sun Gel SPF50+ PA++++
Powerful UV protection system by double layer against water and sweat: 

Powerful UV protection system by double layers helps the effect last longer and completely protects skin from strong UV rays.
Moisturizing with Glacial Milk and Inc Plant Water: Water gel base containing glacial milk and plant water helps make skin moisturized and light texture with coo feeling is absorbed into the skin quickly.
Antozone-Rose & Thanakha extracts that sooth the skin irritated from strong sun light: Containing Antozone-Rose extract that protects skin from harmful environment and Thanakha extract that has a cooling effect, it helps sooth the skin exhausted from the external environment such as solar heat, pollution, ozone etc.
Technology of Water and Sweat Resistant Double Layer Polymer
All UV Rays Blocked.
Despite Contact with Water and Sweat, UV Barrier Remain.
Main Ingredient
Oriental Tea Newplex: A complex composed of 7 oriental tea extracts (Chrysanthemum Tea, Green Tea, Mugwort Tea, Mulberry Tea, Persimmon Leaf Tea, Arrowroot Tea, Cinnamon Tea) protect the skin from UV and harmful environment and further strengthen the skin barrier.
Glacier milk: Moisture skin.
Ice Flower Extract: Hydrates and energies skin.
"Antozone" Amur Rose Bud Extract: Helps maintain youthful appearance of skin against external stimulus such as pollution, ozone and solar heat. Antozone-Rose extracted from Rosa Davurica Pall, protects skin from damage and harmful environment such as pollution and ozone.
Thanaka: Soothes skin. Fragrant tree bark extract from Myanmar traditionally used in refreshing facial treatments. 

Use of Thanaka ingredient started about 2,000 years ago in the ancient country, Peikthano, located in Myanmar. It has a cooling effect to soothe skin easily damaged by external stimulus such as intense solar heat and etc.
How to use:
1. Used at the last step of skincare.
2. Gently spread over the vulnerable areas to sun rays which are face, neck, arms, and legs.
3. Reapply as needed when you spend a lot of time outdoors.