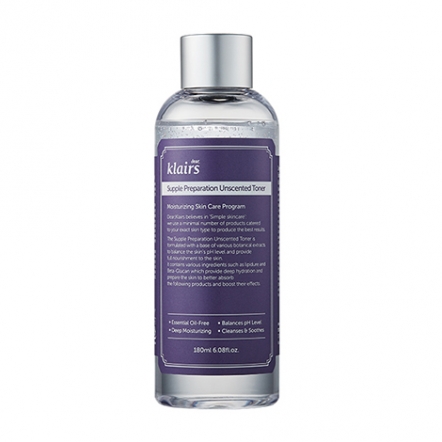 [Klairs] Supple Preparation Unscented Toner
KShs2,400
The unscented toner is the second version of the Original toner that excluded all essential oil, which makes it fragrance-free. While the original toner contains non-irritating all natural essential oil, the unscented was made to provide an option for customers' preference for scents. Like the original one, this toner also has star-studded ingredient list that is perfect for all skin types, and features a soothing blend of plant based extracts, along with hydrating ingredient hyaluronic acid, and the soothing centella asiatica.
[Klairs] Supple Preparation Unscented Toner
Recommended For: For all skin type, Those who are sensitive to fragrances/essential oil
After cleansing, apply the toner to clean skin. Pat with palms for complete absorption.
TIP:
Multiple application is recommended for dry areas. Try the Klairs Toner with Cotton Pads
Only logged in customers who have purchased this product may leave a review.