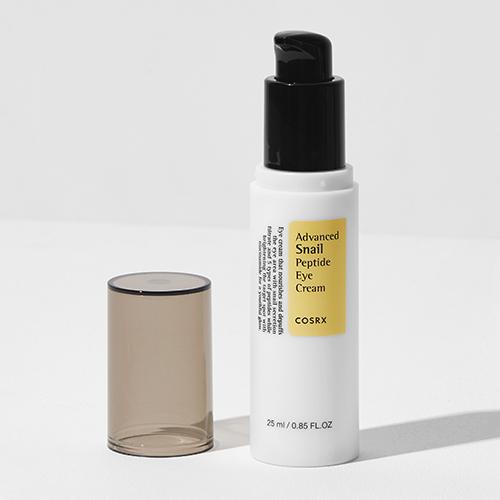 [COSRX] Advanced Snail Peptide Eye Cream
KShs3,000
a lightweight eye cream that works to brighten and depuff the under eye area with 72% snail secretion filtrate, a nutrient-rich ingredient that helps soften and hydrate the skin. Five types of peptides and niacinamide work together to firm, minimize the look of fine lines, and brighten dark circles. Perfect for those in their 20-30s looking to start early eye care
Benefits:
Depuffs and brightens the look of dark circles
Hydrates the under eye area with lightweight moisture
Visibly plumps to provide a more youthful appearance
Reduces the appearance of fine lines and wrinkles
In stock
[COSRX] Advanced Snail Peptide Eye Cream
* Brightening & Energizing eye cream with COSRX Favorite ingredient, Snail Secretion Filtrate: As a extension of best essence, Advanced Snail 96 Mucin Power Essence, this double functioning eye cream contains snail secretion filtrate which moisturizes, protects and helps rejuvenating the eye area. The peptide complex-5 which is consist of 5 different types of peptides helps produce collagen and the niacinamide brightens the dark circle of the eye area.
The formula helps restore the delicate eye-area and prevent future signs of aging while gently erasing the look of fine lines.
* Housed in airless container for maximum performance: With the airless bottle, the cream inside the bottle can be dispensed completely, which will not require the opening of the bottle. The integrity of the cream can remain stable and hygienic throughout its use.
Directions
1. Apply after using essence / serum / ampoule around your eyes.
2. Massage around eyes and tap the area gently for better absorption.
Only logged in customers who have purchased this product may leave a review.